How to get into digital art? Especially if you don't know how to draw, don't know much about Photoshop and other programs. All you can do is distinguish between colors and control filters. Start with glitch art.
How to enter the history of art? Especially if you want to do contemporary art and show your work to a huge audience. Start with glitch art.
If you are an established artist with the professional skills of a draftsman, painter, sculptor, ask yourself why the strange art of error is so popular today. Perhaps these reflections will help you reach your potential deeper. Try glitch art.
This could have been the beginning of an article offering a special discount on glitch art.
But we are not a school, we are a museum, which means that we select, analyze and present to the viewer what already meets the criteria of a work of art. We will define what glitch art and its varieties are, consider examples of creating a glitch and at the very end of the review, we will try to explain the reason for its popularity. And there will always be helpful links at the end.
Pictured is the work of the Dutch artist and researcher Rosa Menkman. She explored how old media work with new digital protocols. At first glance, this looks like self-indulgence, but in fact, it poses a serious question for humanity – will our knowledge and information about our life as a whole remain after us in a readable format, or will everything turn into white noise?
Rosa Menkman's The Collapse of PAL (2011)
So what is glitch art?
It is literally the art of error. A glitch is what US astronauts call equipment malfunction. This was described in detail in his book by John Glenn, who is considered the author of the term. This happened back in 1962, and the term became widespread after the discussion of this term in the game show What's My Line? June 20, 1965. So glitch art can have its own historic birthday.
More precisely, a glitch is not just a hardware malfunction, but a failure, the cause of which cannot be determined. This is the same randomness, the uncertainty that cannot be predicted and which will surely happen sooner or later.
Of course, artists could not ignore this phenomenon. It is believed that the first deliberate glitch effect (there was no such term yet) was used by Len Lye in his film The Color Box.
The film was ordered by the General Post Office and paid only £ 30. Len decided to forgo the errors that occur with color offset printing, when we listen to a scratched recording or when the film breaks. Begin's melody The Beautiful Creole by Don Barreto sounds musically. The entire film was hand-drawn directly on film in 5 days.
Glitch art today.
Today glitch art is a mass art. Fortunately, there is plenty of material for it. Glitch became so widespread that studies appeared about it and the division into types and genres within the direction itself. One of the first researchers of glitch art, Iman Moradi, divides it into two types – genuine, or pure, glitch art, and artificial, or glitch-like. Pure glitch art is, for example, an image with noises on a TV screen, which can arise for various reasons, often beyond our control.
Those who still remember the turntables are familiar with a glitch caused by an accidental scratch, and then the disc sounded like this:
What does an artist's work in pure glitch art boil down to? This is, first of all, close observation, constant moderation, readiness to react at any time and save the resulting glitch. This applies, for example, to game testers who track bugs (errors in the image, text, or sound of the game). Based on the test results, reports are compiled, some of these errors are fixed, but something remains in the game and becomes an additional unique detail.
Sometimes a player can go through the same game not only because of the gameplay he liked but also in order to catch all the mistakes. The saved snippets with these errors are pure glitch art.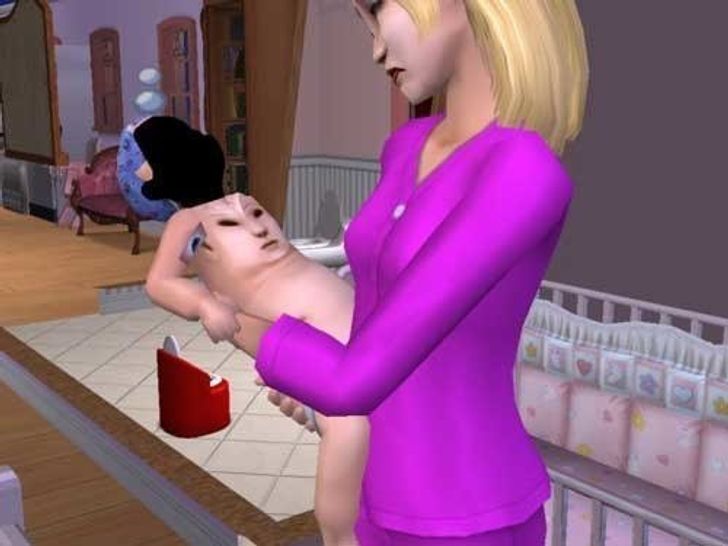 The same is true for movies, acoustic recordings, examples of pure glitch art are a poorly loaded photograph, image, or sound distortion due to a power outage or sudden power surge. Sometimes, pure glitch art can be artificially triggered. It won't look like a crash, because the result will be unpredictable and uncontrollable. Rather, it looks like a hound hunt.
One of the first to do this back in 1965 was Nam June Paik. He installed a powerful industrial magnet on a black and white television. The magnetic field distorted the signals. Moreover, this distortion can be controlled by changing the position of the magnet. The only thing that could not be done was to get two identical images. Magnetic television, as Pike's project was called, was also one of the earliest examples of immersive art, where there is a direct instant connection between the actions of the viewer and the object. The authors of this glitch art are engaged in creating conditions for its occurrence, soldering circuits, inserting unnecessary parts, or deleting existing ones, in general, they do everything except work directly with the code. This is how one of the first glitch films by Jamie Fenton and Raul Zaritsky, Dinner TV Digital, was created. Let's say right away that watching it today is not a great pleasure. And, like much in contemporary art, it is rather a demonstration of the cognitive function of art.
The art of glitch-like
Iman Moradi refers to the art of creating glitch-like images, text, or sound sequences that mimic real glitch art. This effect can be achieved in different ways. Sometimes imitation is so successful that it is extremely difficult to separate a pure glitch from its similarity. One of the first imitations of white noise in analog television was Karl Otto Goetz's famous 1962 work Saturation. The whole joke was that it was not electronic art at all or even electrical art. The whole process was manual. The artist cut out a huge number of white and black squares and, mixing them, shot the entire film frame by frame. I would call it a real imitation of pure glitch art.
Today, the creation of a glitch effect is achieved in several ways – it is either a manually created image of the glitch effect by an artist, or working with the code, re-encoding, erasing parts of the code, inserting additional lines into the code either using ready-made filters, or purely visual manipulations with the original image. Thus, the glitch effect in the works of Andrey Surnov A Scanner Darkly and Afterdeath is a purely pictorial technique.
The video glitch is, of course, working with code or filters. This is how Antonio Roberts, Alex McLean and dozens of other artists do it right in front of the public, editing the code live. This area is called Algorave, and the museum may devote a separate study to this phenomenon.
Video artist Ian Grant directed the glitch feature Cosmos, Corruption and God. It replaces footage of the unrest in Baltimore with NASA space videos, interspersed footage from random TV channels, personal photos, BBC broadcasts, snippets of videos and shows. Ian does not try to give his work an unnecessarily deep meaning and honestly admits that he wanted to make a film about glitches. (Here is a link to the movie, but it's long. You can watch it another time).
The altered glitch space is played out in the iconic Adventure Time cartoon. The series is called Glitch is a Glitch and tells how the Ice King created a computer virus to destroy everyone except himself and Princess Bubblegum. A glitch aesthetic allows authors to convey a borderline, transitional existence between reality and disappearance.
I must say that a large number of glitch artists work in countries that are not traditional centers for the development of contemporary art. So, on December 25, an exhibition of glitch art Glitch Art: Pixel Language opened in Tehran, which will last 11 weeks, and will feature 27 Iranian artists. Glitch art is essentially a kind of abstract art that gives the artist both freedom of expression and the ability to avoid violating religious prohibitions when creating realistic images.
Brazil hosted an online glitch art exhibition last year with artists from 30 countries. The exhibition is free to all participants and allows a wide audience around the world to access an online program that brings together the works of art and texts of current artists and researchers. Here we present works by Austrian artists Elena Romenkova and Christian Munch.
Glitch art today
Glitch art is a serious commercial trend today. Apple and Google have released applications that allow you to edit photos and videos directly on your Glitch Art Studio smartphone: Cam Effects 4+ and Glitch (Glitch Video & Photo Editor). Glitch art is used by fashion and interior designers.
There are quite material glitch sculpture, glitch furniture, glitch tableware.
Glitch anime was filmed, there is even a game in which all the action takes place in a glitch space, and the player's task, using only certain angles, is to assemble the whole. https://www.youtube.com/watch?v=9Yv1Dbau7xY&t=101s
Why do we love glitch?
It is a mistake to think that glitches and bugs only happen in contemporary art. If you look closely at the painting of the great Rubens Union of Earth and Water, you will find that Earth has two identical arms. And there are many such works in the art of the past – you just need to look.
We are used to the idea that art and society in general always strive for excellence. In general, this, of course, is so, because a person is convinced that only perfection gives immortality. But in the history of mankind there are periods when an error, incorrectness become more valuable than perfection. One of the biggest phenomena of the art of error was, for example, the baroque, the very name of which comes from the word "wrong" (at least this is the usual explanation). Wrong, disturbing, or delightful imperfection has been prized by both Expressionists and Modernists. Not a single person in the world would call Picasso's work correct. Even such Orthodox art as icon painting also uses the wrong proportions. Why is humanity so fond of mistakes? The answer is simple. Once you reach perfection, the development will stop. Eternal static perfect immortality begins. When the program crashes, another script is launched to open up new possibilities. There is a hypothesis that ancient man appeared as a result of a failure in the heredity program. An error, a glitch, a bug is a sign of life. Perhaps that is why the glitch has become so popular right now, when society is becoming more and more manageable, when people are trying to drive a person into a program, prescribing a way of thinking, a way of life, and rules of behavior. In such conditions, a glitch is a symbol of freedom, the right to choose and respond to the challenges of the time.
Useful links: